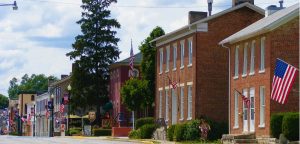 If you enjoy covered bridges, antiquing and pioneer history, we have some great ideas for you!
The bridge below is located in Eaton, Preble County, Ohio. Preble County has several interesting bridges. Nearby Wayne County, Indiana is well-known for antiques.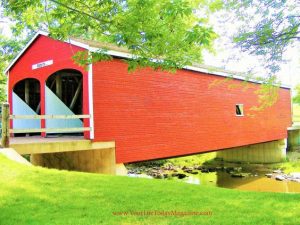 Visit the Wayne County Historical Museum in Richmond, Indiana to see a covered wagon not far from Old National Road, the main road that pioneers used to settle the West. They have an excellent collection of other wagons in the small historic re-created village on the grounds as well as numerous other fascinating exhibits.
Don't miss the Madonna of the Trail Statue, erected in nearby Glen Miller Park along Old National Road (US 40) by the Daughters of the American Revolution in honor of pioneer mothers. It is one of only a few placed across the country.
The area is very popular with antique lovers since there are several hundred antique shops in the area. visitrichmond.org
"Covered Bridge Capital of the World" Driving Tour
On the far side of Indiana, Parke County, Indiana, has 31 covered bridges, and is known as the "Covered Bridge Capital of the World." There is a Covered Bridge Festival every October. There are usually bus tours to the bridges during the festival. If you would like to visit at a quieter time, most can be appreciated throughout the year weather-permitting. The visitors bureau's site has a handy map so that you can do your own self-guided driving tour. www.coveredbridges.com