When I was a teenager, one of the gifts I received for the holidays was a road atlas. As you can imagine, it wasn't the most exciting gift I opened that day. I certainly hadn't asked for it, and since I lived somewhere where I knew my way around pretty well, it took awhile for it to even end up in the car.
A year or two later I moved to a city that has such notoriously confusing streets that people who have lived there their entire lives still get lost. That gift that I had received less-than-enthusiastically became indispensable.
Sometimes we get something that we don't want…that we didn't ask for…because it will be useful down the road.
I will admit that I am still in the "Um…thanks?" phase of dealing with my health challenges. They certainly never made my Life Wish List, but I am learning important lessons from them.
I am learning to let go of my plans and trying to believe that there is a greater plan that I can't see right now. That is hard, but I am reminded that the one who wrote, "Rejoice in the Lord always. I will say it again: Rejoice!" did not write it from a resort while sipping fruity umbrella drinks, but rather from a prison cell. He had grand plans to do good, but instead ended up shipwrecked, beaten and imprisoned. He had hoped to encourage others with his travels, but because he was stuck in a prison cell, he could only write letters. Little did he know at the time that those letters would inspire millions for thousands of years.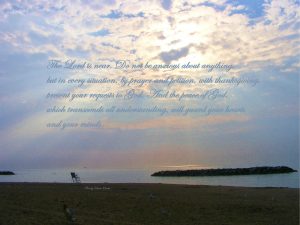 We don't know why we're stuck where we are, why we feel the pain we feel or why our plans for our lives sometimes fall apart, but I do believe that when we do the best we can within our circumstances the impact is more than we can see.
We can rejoice because no matter what our situation – whether we're in a prison cell or a hospital bed, the Lord is near. We do not have to worry. We can have peace, not because we understand, but because He has promised to be by our side. One day the reasons will become clear. In the meantime, we can cling to that assurance.