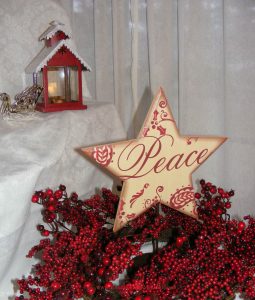 If you have a crazy work schedule or are dealing with health challenges, it can be hard to find the time or energy to decorate for the holidays.  Here are a few tips to make your home look festive in no time!
If your decorations are stored in the attic behind a lot of other boxes and getting them out right now sounds exhausting, it is worth investing in a few new ones this year. Even drug stores usually carry some, so these should be easy to pick up when you're doing other errands.
Hang something on the front door.  It can be a wreath, pine cones dangling from satin ribbon or anything else that suits your tastes.  The key is to be welcomed by something festive.
Wrapping the wreath with a strand of white lights is also a pretty and quick way to get a few lights up outside your home.
A tabletop tree can be wrapped in a single strand of lights and one or two packages of small ornaments.  Place it near a window in your main living space to get the maximum benefit inside and out.
I store my lighted wreath, tabletop tree and stockings on a shelf in my hall closet so that I can almost instantly make things look festive whether I feel like dragging out all of my other decorations or not.  These are usually not that expensive and are easy to find in drug stores or grocery stores.  If you just know you have the same thing in a box somewhere, when you have more energy and time to find it, you can donate the duplicate.  Nursing home residents love getting lighted mini trees because they don't take up much space and create a warm, festive glow in their rooms.
Since I find "undecorating" kind of depressing, I've gotten a lot of decorations for my home over the years that don't need to be put away right away such as lanterns, stars, cookie cutters, snowmen, angels, sleds, antique toys, etc. The snowmen and sleds are really the only things that need to be stored because they look out of place during warmer months. (The fewer boxes I have to carry the better!) Burgundy and forest green ribbons on grapevine or berry wreaths look festive during the holidays and attractive the rest of the year, too.  Once the mini tree and stockings are up these things almost magically seem to transform into holiday decorations.
As far as larger trees, I love fresh ones, but the convenience of artificial ones makes them worth considering if you are short on energy or time, especially the new ones that come pre-lit and all in a single piece. I miss the smell, but I don't miss finding pine needles with my toes in the middle of the night!  I don't always have the energy or inclination to put up a larger tree, but I like having the option without having to go to a tree lot.
However, if you have a quaint Christmas tree farm nearby, even if you don't have the strength to carry in and put up a live tree, you don't have to miss out on the experience entirely. Our local tree farm has a wonderful gift shop with locally made food gifts, decorations and pottery as well as evergreen wreaths and centerpieces so you can still enjoy the Christmasy smell in your house! Check your area to see what is available.
Gift bags and boxes are so much easier than wrapping with paper and can be reused many times.  Buying them ahead of time and setting them by the tree or on a table helps make the place look festive and can be easily filled as gifts are purchased.
Wishing you a peaceful holiday season!