| | |
| --- | --- |
| | |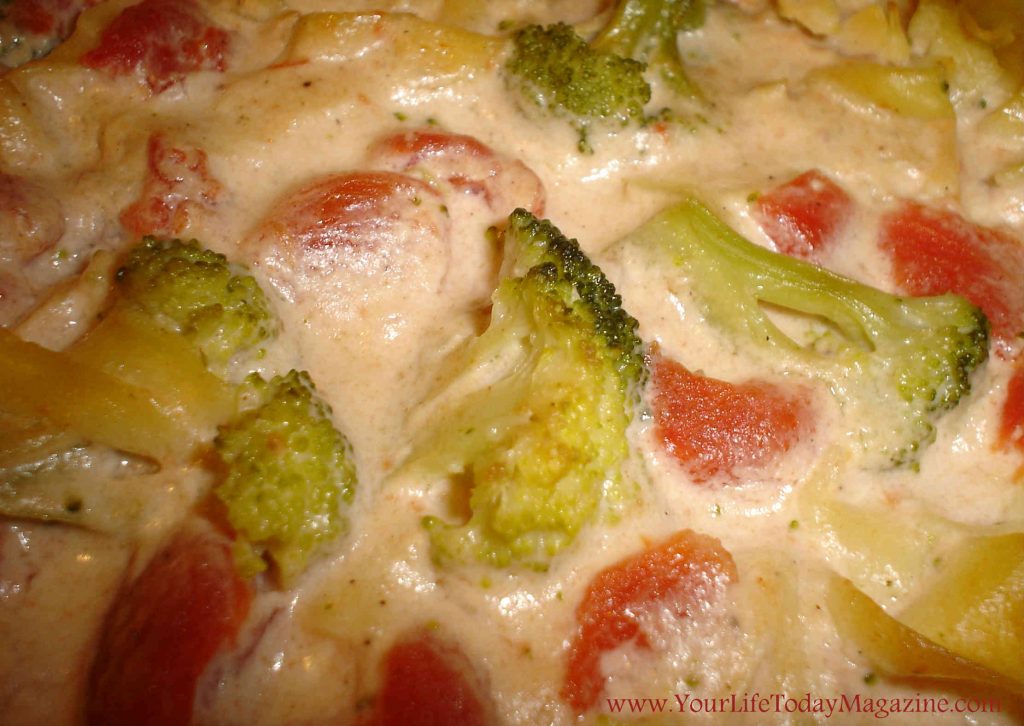 This is a comforting casserole to take to a sick friend or to a carry-in.
Keep everything on hand in your pantry and freezer to whip it up in no time.
Ingredients
1 can of chicken, drained, juice reserved*
1 can of diced tomatoes, drained, juice reserved
1 cup broccoli (pre-cooked if you like softer broccoli)
1 pound bag of egg noodles
1 16 ounce jar of light Alfredo Sauce
Salt & Pepper to taste
Parmesan cheese & basil for garnish (optional)
Water
Directions
Two pan method:
Boil noodles as directed on package. Drain. Mix with Alfredo sauce, chicken, tomatoes, broccoli, salt and pepper. Add to baking dish which has been sprayed with cooking spray to prevent sticking. Bake at 375 degrees F until slightly browned (approximately 30 minutes) and garnish with basil and Parmesan cheese.
One pan method:
We like this because we don't have to mess with an extra pan or draining the boiling water off the noodles. Just add diluted sauce to dry noodles in the baking pan, and bake, stirring part-way through. See below for more detailed instructions.
Put dry noodles in baking pan and cover with sauce mixture. (Mix juice from chicken and tomatoes with Alfredo sauce. Fill Alfredo sauce jar with water, replace lid and shake. Add to sauce mixture, whisking until fully combined. Add enough additional water to mostly cover noodles, approximately 2 more jars. Add just enough so that the noodles will soak up the sauce during baking.) Wait about 20 minutes after putting it in the oven until noodles have softened, and stir to fully submerse all noodles. Stir in chicken, tomatoes and seasoning at this time. Bake at 375 to 400 degrees until noodles are fully cooked – approximately 1 hour. (Should be slightly runny at this time. As the casserole cools extra liquid should be absorbed.) Garnish with basil and Parmesan cheese.
*To save money, use leftover chicken. This roasted chicken recipe is quick and easy.
You can substitute Marinara sauce for the Alfredo sauce for a lighter version. If you want to make a gluten-free version, use gluten-free noodles. It is also usually easier to find gluten-free Marinara sauce than it is to find gluten-free Alfredo sauce since Alfredo sauce often uses thickeners that contain gluten. (Read labels carefully to be sure there is no hidden gluten in either kind.)