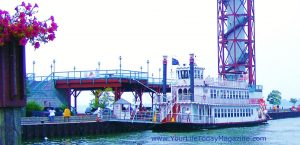 There are cruises to suit a full spectrum of interests and activity levels. While we often think of large ocean-going vessels for cruising, paddleboats and other smaller ships navigate lakes and rivers past lighthouses, fortresses, stately homes, ancient ruins and castles. You can go whale watching in a schooner or explore shipwrecks and view colorful sea creatures in a glass-bottom boat. Get an intimate look at one region of a country or visit multiple countries without having to move your suitcases from one hotel to the next.
Cruises can last from a few hours to several weeks, so they can fit any budget or schedule.
Smaller boats that pass right by the coastal sites do not require a lot of driving or walking to sightsee, so they are perfect for slow walkers and those who are unable or prefer not to drive.
Ships and boats vary greatly in their level of wheelchair accessibility. Some, of course, would not be considered wheelchair accessible. Others are partially accessible. For example, many small vessels may be accessible on one deck, but often have only narrow connecting stairways, so the upper deck(s) might not be wheelchair accessible.
Larger, more modern ships tend to be better equipped with elevators, wider hallways, bigger staterooms, etc. Most of these are found on the ocean, but more fully accessible riverboats are being built.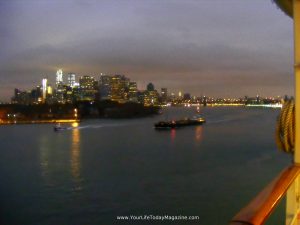 Large ships offer extensive amenities onboard. Modern megaships tend to be the most accessible of all. The only drawback is that sometimes the extra large ships have to anchor so far from shore that it can be unsafe to get off the ship in a wheelchair to visit local sites. If first-rate onboard entertainment and lavish buffets are your style, these ships would be ideal for you. If your purpose for cruising to the various locations is to tour the ports on the itinerary, and it isn't possible to safely disembark in a wheelchair at those ports, then a better option might be to fly directly there and use accessible ground transportation like trains, buses and vans to see those sites and save cruising for more convenient ports. However, more boats (or "tenders") that carry passengers from the large cruise ships to the shore are being made to be wheelchair accessible so more shore excursions are accessible all the time.
There are numerous options out there! A qualified travel agent specializing in accessible travel would be able to help you select the right cruise.
One site that offers the option to search for disabled cruise travel is Cruise Critic. Under the Find a Cruise tab select "disabled" from the Cruise Style drop down menu to search. Look under the Stylestab for disabled cruise information and reviews.
Remember, before booking a cruise, inquire not just if they are accessible, but to what degree. Ask which decks, staterooms and shore excursions are accessible (and for what size wheelchair) and what assistance is provided by staff if needed. The more information you have, the easier it will be to decide which trip is right for you!