I cherish times with loved ones and the focus on hope, charity and peace during the holidays. They can bring out the best in people.
However, since even healthy people get tired from all of the holiday hustle and bustle, the exhaustion and soreness that can set in after all of the added shopping, cooking, cleaning, traveling and entertaining for those who are already dealing with fatigue and pain can be discouraging to say the least.
Don't get me wrong. I am abundantly grateful for every one of those things that I was able to do this year, because there have been plenty of times when I couldn't.
After looking at holiday photos, I'm all for working on the new me in the new year. It's just that even a week into the New Year, I feel like I'm bouncing back like a deflated ball. As you can imagine, it's been a little hard to throw myself into the latest aerobic fitness craze. What I think I'm going to do instead is work on "functional fitness." Apparently, it can help make a lot of tasks less exhausting in the long run since it helps your body handle situations you deal with in real life.
If you feel like I do, as soon as you're able to drag yourself to the grocery store, re-stock your fresh produce, whole grains and lean meats. We need the nutrients for strength. (Subsisting on leftover candy canes won't bring energy back.) If you have any produce that is still edible but less than perky, turn it into a nourishing soup. Slow cookers are wonderful when you have no energy.
If you still have to take down your decorations, store a few of your essential decorations (for me they include a wreath, stockings, and little tabletop tree) in the hall closet or other very easily accessible location. Next year, you won't have to feel up to going up to the attic and carrying down a bunch of boxes to make the place look festive. Many years, that's all I've ended up feeling like putting up. It doesn't take much energy to put things away after the holidays that way either.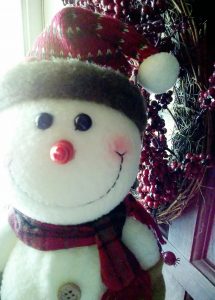 Since I find "undecorating" kind of depressing, I've gotten a lot of decorations that don't need to be put away right away such as snowmen, angels, sleds, antique toys, etc. Often they'll be on clearance in January along with everything else. Burgundy and forest green ribbons on grapevine wreaths look festive during the holidays and attractive the rest of the year, too.
Speaking of clearance, if you like trees, this is a great time to buy a small-to-medium-sized pre-lit, pre-assembled tree that you can just pull out of the box. Unless you love doing it, you don't need to be messing with carrying live trees in and out of the house or even attaching lots of branches to an artificial one when you have pain or coordination issues.
Stock up on gift bags now, too. They are so much easier than wrapping paper when your hands hurt or aren't doing what you want them to. They are better for the environment and cheaper in the long run anyway!
I know your goal was to have the whole house cleaned and organized and have lost ten pounds by this point, but it doesn't have to all be done at once.
As always, focus on the most important things first. Break larger tasks down into smaller parts. Take it step by step and rest in between as needed. It doesn't have to be perfect. Cherish the crazy, messy, sweet moments that make up real, happy lives.
Have a blessed New Year!